The Living in Love Book Club is a healing support group and mentorship program for black women to dive deep, explore and manifest all aspects of love. Self LOVE, Relationship LOVE, Divine LOVE, Cultural LOVE, Friendship LOVE, Creative LOVE are just a few of the topics we will review and celebrate in this empoWOMBment space. Bell Hooks' book 'All about love: New visions' will guide the conversations each session.
If you're willing to do the internal work, the benefits of this program include:
Understanding the impact of internalised racism on your ability to love and be loved.

Solution focused self love tools.

Understanding and processing emotions.

An increased sense of belonging.

More confidence in relationships.

Stronger personal boundaries.

Increased self acceptance.
Click here to join the book club. Come and awaken your divine feminine!
FREQUENTLY ASKED QUESTIONS.
Who are these sessions for?
The circle is for black women who want a safe space to connect, build sistahood and are ready to start doing the inner healing work.
Why is it only for black women?
The content is focused on women of African descent so these racial boundaries are important for nurturing cultural identification and emotional safety.
Where can I buy the book?
Online or you can purchase them from me at the in person circle once you've bought your ticket.
Do I need to read the book before I attend?
No, we read it live in the session to keep us at the same pace. The sharing in real time is much more powerful.
Can I still come if I've missed previous chapters of the book?
Yes, the core focus is not specifically on the book, but the topics which come out.
Where is it being held? Online.
Am I welcome if I'm biracial?
The sessions are focused on the experience of African/Caribbean women so if this is part of your biracial mix you are very welcome to join us.
Who is Bell Hooks?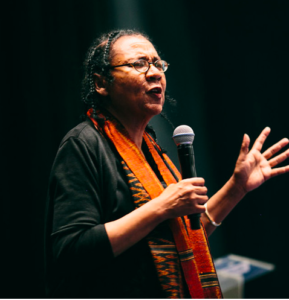 Bell Hooks is an American author, feminist, and social activist. The focus of her writing has been the intersectionality of race, capitalism, and gender, and what she describes as their ability to produce and perpetuate systems of oppression and class domination. She has published over 30 books and numerous scholarly articles, appeared in documentary films, and participated in public lectures. She has addressed race, class, and gender in education, art, history, sexuality, mass media, and feminism. More details can be found
WHAT ARE SISTA'S SAYING ABOUT ME AND THIS SPACE?